KEYNOTE SPEAKERS

Hani Abouhalka, MBA
Company Group Chairman, Medical Devices EMEA, Johnson & Johnson, New Brunswick, NJ, USA

Gemma Aiolfi
Head of Compliance, Corporate Governance and Collective Action, Basel Institute on Governance; Former Advisor, Working Group on Bribery in International Business Transactions, Organisation for Economic Co-operation and Development (OECD); Basel, Switzerland

Julie Bonhomme
EFPIA Legal & Compliance Director, European Federation of Pharmaceutical Industries and Associations (EFPIA), Brussels, Belgium

Robert I. Dodge, JD
Assistant Director, FCPA Unit, US Securities & Exchange Commission; Former Assistant U.S. Attorney, US Attorney's Office, Western District of Michigan; Former Assistant Section Chief, Environmental Defense Section, US Department of Justice; Washington, DC, USA

Roxana Family, Thèse de Doctorat Droit
Vice-President, Chair in Law & Business Ethics and Program Director, Cergy Pontoise University, Cergy-Pontoise, France

Susanne Friedrich, MA
Director, Group Governance, Human, Rights Division Global Policy, Governance, Alliance for Integrity (AfIn), Bonn, Germany

David Fuhr, JD
Assistant Chief in the FCPA Unit, US Department of Justice, Washington, DC, USA

Iordanis Kerenidis, PhD
Director, Paris Centre for Quantum Computing (PCQC), CNRS Senior Researcher (DR2), Algorithms and Complexity Group, IRIF, University Paris Diderot, Paris, France

Aline Lautenberg
General Counsel and Director, Legal & Compliance, MedTech Europe, Brussels, Belgium

Sofie Melis
Head of Ethics and Compliance, International Federation of Pharmaceutical Manufacturers and Associations (IFPMA), Geneva, Switzerland

Hannes Oswald-Brugel, LLM, PhD
Global Head Pharma Healthcare Compliance, Roche, Vice President, Association of Voluntary Self-Regulation, for the Pharmaceutical Industry ("FSA"), Basel, Switzerland
Christoph Thalheim
Vice CEO and Director External Affairs, European Multiple Sclerosis Platform (EMSP), Brussels, Belgium
FEATURING INVITATION-ONLY:
CHIEF COMPLIANCE OFFICER ROUNDTABLE
(Special April 20 Morning Invitation-only, Closed Session)
FEATURING

Sally Molloy, JD
Chief, Strategy, Policy & Training Unit, Fraud Section; Former Assistant U.S. Attorney, US Attorney's Office, Northern District of Georgia, US Department of Justice; Washington, DC, USA
AGENDA-AT-A-GLANCE
Monday, April 20, 2020


Morning Preconferences:



Closed-Door, Invitation-Only Chief Compliance Officer Roundtable

ETHICS Workshop on Practical Ethics & Compliance Case Studies


Afternoon Opening Plenary Session:



Congress Welcome, Vision and Overview

Keynote Address: Ethics, Compliance and the C-Suite

International Anti-Corruption Landscape

Senior Ethics & Compliance Professionals Roundtable
Tuesday, April 21, 2020


Morning Plenary Session:



Embedding Ethics in a Company Governance Model

Global Compliance Codes Update

Minis Summits:



I Compliance Considerations for Small to Mid-Sized Organizations

II Annual Medical Device Compliance Roundtable

III Interconnectivity of Auditing, Monitoring, and Investigations

IV Annual Central and Eastern Europe (CEE) Compliance Update

V Best Practices for Compliance Training

VI How to Build and Manage Compliance Risk Assessments

VII Handling Ethics & Compliance When Interacting with 3rd Parties

VIII EU Whistleblower Directive


Minis Summits, Continued:



IX Performing a Fair Market Value (FMV) Analysis

X Compliance Considerations for Gene Therapy& Rare Disease Products

XI GDPR and the Tumultuous World of Data Privacy

XII Patient Relationships, Including Patient Access and Support

XIII Enhanced Compliance Monitoring

XIV Building Effective and Right Sized Compliance Programs

XV Role of Compliance Officers in Complex Global Organizations


Afternoon Plenary Session:



Value-Based Proposition

Ethical Interactions between Health Care & Other Stakeholders

Artificial Intelligence and Digital Health
Wednesday, April 22, 2020


Mini Summits:



XVI Annual Middle East Africa (MEA) Compliance Update

XVII The Role of the Industry re: Medical Education

XVII The Practical Effect on Implications of Brexit

Closing Plenary Session:



Drivers for a Sustainable Ethical Culture

Trust in Business

The Role of Governance

Co-chairs Closing Thoughts
FEATURED FACULTY

Pablo Rojas Abad, LLM
Manager, Legal and Compliance, MedTech Europe, Brussels, Belgium

Bas Amesz
Partner, Vintura, Baarn, Utrecht, Netherlands

Natalie Ammerlaan, LLM
Compliance Director International Operations, Novo Nordisk, Zürich, Switzerland

Michael Bartke, PhD
Member, Strategic Committee, ETHICS; Former Director Ethics & Compliance, Alexion; Former Director Compliance Management, Daiichi Sankyo Europe; Munich, Germany

Dante Beccaria
Global Compliance Officer and Vice President, Sanofi; Former Vice President of Internal Audit, Sanofi; Former Co-chair, International Pharmaceutical and Medical Device Compliance Congress; Paris, France

Enno Behrendt
Associate Director, Guidehouse; Former Head of Compliance for Diagnostic Imaging, Siemens Healthcare GmbH; Berlin, Germany

Sadek Beloucif, MD
University Professor, Hospital Practitioner and Head of Anesthesia-Resuscitation, University of Paris and University Hospital, Bobigny, Chair, National Union of Physicians, Surgeons, Specialists, and Biologists of Public Hospitals, Paris, France

Duygu Beyazo
Senior Associate, NSN Law Firm; Former Compliance Manager (Secondment), Business Conduct, Gilead Sciences; Istanbul, Turkey

Stefano Biondi, LLB, PhD
Group Data Protection Officer, Menarini Group, Florence, Italy

Eric Bolesh
Chief Operating Officer, Cutting Edge Information, Raleigh-Durham, NC, USA

Kara Bonitatibus, JD
Head of Product, Lextegrity; Former Assistant General Counsel, Compliance Lead for Digital, Policy, and Patient & Health Impact, Pfizer, New York, NY

Keith Burn
Global Investigations Director, Ipsen; Former Associate Investigator, Parliamentary and Health Service Ombudsman, NHS; Former Detective Constable, London Metropolitan Police; Amersham, Slough, UK

Parth Chanda, JD, MPA
Founder & CEO, Lextegrity; Former Global Anti-Corruption Lead and Chief Compliance Counsel, Oncology, Pfizer; New York, NY, USA

Alice Choy, MS
Manager, Anti Bribery Anti-Corruption (ABAC), Compliance, Internal Audit, Risk Assessment, IQVIA; Former Lead Specialist, Transparency and Reporting, Johnson & Johnson; London, UK

Thomas Costa, JD
Member, US Board of Directors, Sanofi; Former Vice President, US Compliance & Ethics, Bristol-Myers Squibb; Washington, DC, USA

Holger Diener
Managing Director, Association of Voluntary Self-Regulation for the Pharmaceutical Industry ("FSA"), Member, Ethics and Compliance Committee and Vice Chair, Code Committee, EFPIA, Member, IFPMA Code Compliance Network, Berlin, Germany

Peter Dieners, Esq.
Partner and Head, Global Healthcare and Life Sciences Group, Clifford Chance, Co-chair, Legal Affairs Focus Group (LA FG), EUCOMED, Co-chair, Compliance Network (CN), EUCOMED, Düsseldorf, Germany

Julien Durand, MBA, PhD
Vice President, Head of Transformation, Global Ethics and Compliance, Takeda, Chair, IFPMA Future Health Technologies & Bioethics Working Groups, Former Executive Director, Compliance and Ethics, Amgen, Former Chief Privacy Officer and Global Technology Compliance Head, AstraZeneca, Zürich, Switzerland

Sue Egan
Director and Principal Consultant, Sue Egan Associates; Former Vice President Compliance, AstraZeneca; Great Missenden, Buckinghamshire, UK

Liisa Eisenlohr, PhD, MBA, CCRA, BCMAS
Associate Director, Guidehouse; Former Senior Director, Global Medical Information, Clovis Oncology, London, UK (Discussion Coordinator)

Karen Eryou
Head, Ethics & Compliance Programs, Global, UCB Pharma; Former Co-chair, Asia Pacific Pharma Compliance Congress; Brussels, Belgium

J. Mark Farrar, MSJ, CPA, CFE, CFF
Partner, Life Sciences Governance, Risk Management and Compliance, Guidehouse, Atlanta, GA

Alex Fell
Head Ethics and Compliance International; Amicus Therapeutics; Former VP Global Ethics & Compliance, Head of Strategy, Planning and Operations, GSK; London, UK

George Fife
Partner, Forensic & Integrity Services, EY; Former Executive Director, Compliance & Ethics, Bristol-Myers Squibb; Paris, France

Indrani M. Lall Franchini, JD
Executive Vice President & Chief Compliance Officer, Alexion Pharmaceuticals, Inc.; Former Assistant General Counsel, Pfizer; New York, NY, USA

Caroline Franco, MBA
Ethics and Compliance Manager, Boehringer Ingelheim, Amsterdam, Netherlands

Abhiroop Gandhi
Trust and Compliance Officer, Verily Life Sciences (an Alphabet company); Former Vice President, Corporate Compliance, Mallinckrodt; San Francisco, CA, USA

Klaus Geldsetzer, MBA
Chief Compliance Officer EMEA, Santenb, Chairman, Eye-Care Industries European Economic Interest Grouping; Former Head of R&D Office and Global Project Leader, Allergan Ltd; Munich, Germany

Gary F. Giampetruzzi, Esq.
Partner, Paul Hastings; Former Vice President and Assistant General Counsel, Head of Government Investigations, Pfizer Inc.; New York, NY, USA

Laura Coll Gil, LLM
Ethics and Compliance Officer, Boehringer Spain, Barcelona, Catalonia, Spain

Betania Glorio, LLM
Global Compliance Officer, Healthcare, Merck KGaA; Former Senior Director, Legal and Compliance EMEA, Horizon Pharma plc and Raptor Pharmaceuticals; Darmstadt, Germany

Tom Gregory, MBA
Partner, Forensic & Integrity Services, EY, Atlanta, GA, USA

Ulf H. Grundmann
Partner, FDA and Life Sciences, King & Spalding LLP, Lecturer, Frankfurt School of Finance and Management, Frankfurt am Main, Germany

Joseph W. Henein, PharmD
President and Chief Executive Officer, NewBridge Pharmaceuticals, Dubai, UAE

Casey J. Horton, CFE
Director, Life Sciences, Governance, Risk and Compliance, Guidehouse, Chicago, IL

Bella Hovhannisyan
Business Integrity and Compliance Lead, Intercontinental Commercial Operations, CSL Behring, Bern, Switzerland

Mirgen Jaku, MA
Lead of Market Readiness, Digital Surgery, EMEA, Johnson & Johnson, Hamburg, Germany

Franziska Janorschke
Global Head, Business Practices Office, Novartis International AG, Basel, Switzerland

Els Janssens, LLM
Associate, Baker & McKenzie; Former Legal Adviser, European Medicines Agency; Former Senior Legal Counsel, Johnson & Johnson; Brussels, Belgium

Larisa K. Jasnic, LLB, LLM
Senior Director, Ethics & Compliance, CEMEA, Alnylam Pharmaceuticals; Former Regional Compliance Officer, Region Europe, Novartis; Zug, Switzerland

Anita Kyung-Hee Kim-Reinartz
Partner, Forensic & Integrity Services, EY, Düsseldorf, Germany

Elisabeth Kohoutek
Senior Associate, FDA and Life Sciences, King & Spalding LLP, Frankfurt am Main, Germany

Adem Koyuncu, MD, PhD (Law)
Partner and Chair, Food, Drug & Device Practice Group, Covington, Brussels, Belgium

Tomasz Kruk, LLM, MBA
Head of Compliance, Vifor Pharma; Former Director International Compliance, Mallinckrodt; Former Director Global Ethics & Compliance, Actavis; Zürich, Switzerland

Edoardo Lazzarini, PhD
Healthcare Compliance Consultant; Former EuCan Ethics and Compliance Initiatives Director, Takeda Pharmaceuticals; Former Compliance Officer EMEA (Europe, Middle East & Africa), Zimmer Biomet; Milan, Italy

Lei Li, LLM
Managing Partner, Beijing and Shanghai Offices, Sidley Austin; Former Third Secretary, Ministry of Commerce, People's Republic of China, Beijing, China; Beijing, China

Bruno Lichtinger
Managing Director, INTERPLAN Congress, Meeting & Event Management AG, Munich, Germany

Michael K. Loucks, JD
Partner, Skadden Arps LLP; Former Acting United States Attorney, District of Massachusetts, United States, Department of Justice; Washington, DC, USA

Marcel Maderitsch, LLM
Senior Compliance Officer, Vifor Pharma; Former Compliance Manager EMEA, Zimmer Biomet; Zurich, Switzerland

Rosa Magistri, Esq., CIPP/E
Head of Legal and Compliance Europe, SeaGen International GmbH; Former Regional Director Office of Ethics and Compliance, Western Europe & Canada, Region South & Israel, AbbVie; Former Associate Compliance Director, Shire; Zug, Switzerland

Anthony McQuillan, LLB
Vice President Legal & Compliance EMEA, Medtronic International; Former Senior Attorney EMEA, Hewlett-Packard; London, UK

Paul J. Melling, JD
Founding Partner, Baker & McKenzie – CIS, Limited, Moscow, Russia

Laetitia Ducroquet Minel
Senior Director, Business Ethics, Ipsen, Paris, France

Véronique Monjardet, MS, DEA, PhD
Sales Director, IQVIA, Paris, France

Laura Nassar, PharmD
Vice President, Head of Ethics & Business Integrity, AEME Region, Sanofi, Chair, Compliance Committee, Pharmaceutical Research, and Manufacturers Association, Gulf (PhRMAG); Former Head of Compliance Middle East, Roche Pharmaceuticals; Beirut, Lebanon

Lauri G. Opar
Director, Risk Analytics, Global Ethics & Compliance, Glaxosmithkline, Brentford, Middlesex, UK

Pascale Paimbault
CEO, Consulting Alley, Strategic Committee Member, ETHICS; Former Executive Director, EMEA Compliance Astellas Pharma Inc.; Former Compliance Officer, France -Benelux, Biogen; Former Chief Compliance Officer EMEA, Wright Medical Inc.; Former Senior Director, EMEA, Bristol-Myers Squibb; Paris, France

Giota Papamarkou
Vice President, Business Ethics Global, France, Ipsen; Former EMEA Compliance and Ethics Manager, Bristol-Myers Squibb, Paris, France

Piergiorgio Pepe, MA
EU Law, President, Quantum Ethics, Ethics and Compliance Lecturer, SciencesPo; Former Compliance Director Western Europe & Canada, AbbVie; Former Director, Compliance & Ethics EMEA, Bristol-Myers Squibb; Paris, France
Oscar Perdomo
Director, Pharmaceutical & Life Sciences Advisory Services, PwC Switzerland, Zurich, Switzerland

Mario Prohasky
Global Compliance Consultant, IQVIA, London, UK

Ariadna Quesada, MSJ
Law, Ethics and Compliance Officer, The Netherlands, AbbVie; Former Compliance Manager International, MicroPort Orthopedics; Amsterdam, Netherlands

John Seungjoo Rah, JD
Partner, DLA Piper, Washington, DC

Nadège Rochel
Global Compliance Manager, Hollister Incorporated, Milan, Italy

Christian-Claus Roth
Head Scientific Engagement Governance, Novartis, Basel, Switzerland

Matteo Santi
Group Compliance Officer, Helsinn Healthcare, Ticino, Switzerland

Giuseppe Saporito, LLM
Global Legal & Regulatory Expert, IQVIA, Milan, Italy

Pascale Schmidt
Chief Compliance Officer, F. Hoffmann-La Roche Ltd, Basel, Switzerland

Piyush Sharma, JD
Senior Vice President, Deputy Chief Compliance Officer, International Compliance, Alexion Pharmaceuticals, New Haven, CT

Leonardo Silva, LLM
Vice President, Global Chief Compliance & Privacy Officer, Ferring; Former Head of Compliance, Acino Group; Former Compliance Director, Emerging Markets, Takeda; Lausanne, Switzerland

Robert Stephenson
Senior Manager, PwC UK, London, UK

Madina Torchinova
Vice President, Deputy Head Global Compliance, MorphoSys; Former Regional Head of Compliance, Central & Eastern Europe, Middle East & Africa, and Global OTC, Sandoz; Munich, Germany

Tamara Tubin
International Compliance Director, Corporate Compliance, Wright Medical Group N.V., Vice Chair, Ethics & Compliance Committee, MedTech Europe, Member, Strategic Committee, ETHICS, Zürich, Switzerland

Cláudia Vaz
Global Value Based HealthCare Consultant, Roche, Value-Based Health Care Consultant, International Consortium for Health, Outcomes Measurement (ICHOM), Basel, Switzerland
Samar Wakim, PharmD
Ethics, Risk & Compliance Head MEA, Oncology, Novartis, Dubai, UAE

Vanessa Westphal, JD, LLM
Head of Compliance Programs & Support, Merck KGaA, Frankfurt am Main Area, Germany

Christopher L. White, JD
Chief Operating Officer and General Counsel, Advanced Medical Technology Association (AdvaMed), Washington, DC, USA

Mariusz Witalis
Partner, Forensic & Integrity Services, EY, Warsaw, Poland

Niels Wohlwend, LLM
Senior Director Healthcare Compliance, Europe & Canada, Celgene, Member, Ethics & Compliance Committee, EFPIA; Former Global Head of Compliance, ACINO; Boudry, Switzerland

Elisabethann Wright, LLB
Partner, Hogan Lovells; Former Senior Legal Officer and Hearing Officer, EFTA Surveillance Authority; Brussels, Belgium
2020 GLOBAL PHARMA COMPLIANCE CONGRESSES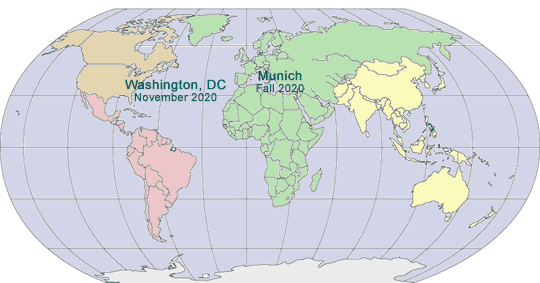 FOURTEENTH INTERNATIONAL PHARMACEUTICAL AND MEDICAL DEVICE ETHICS & COMPLIANCE CONGRESS
Sponsored by International Society of Healthcare Compliance Professionals (ETHICS)
April 20 – 22, 2020
Sheraton Munich Arabellapark Hotel
Munich, Germany
www.InternationalPharmaCongress.com

TWENTY-FIRST ANNUAL PHARMACEUTICAL AND MEDICAL DEVICE COMPLIANCE CONGRESS
A Hybrid Conference and Internet Event
Sponsored by Pharmaceutical Compliance Forum
November 4 – 6, 2020
Mandarin Oriental
Washington, DC
www.PharmaCongress.com