CO CHAIRS

Dante Beccaria
Global Compliance Officer and Vice President, Sanofi, Former Vice President of Internal Audit, Sanofi, Paris, France

Stephen Nguyen Duc
Former Office of Ethics & Compliance Area Director, International Operations, Western Europe & Canada, AbbVie, Board Member, Strategic Committee International Society of Healthcare, Ethics, and Compliance Professionals (ETHICS), Rungis, France

Suzanne Durdevic, LLM
Senior Director, General Counsel Europe, Boston Scientific International, Chairs, Legal Affairs Committee, MedTech Europe, Member, Strategic Committee, International Society of Healthcare, Ethics and Compliance Professionals (ETHICS), Paris, France

Dominique Laymand, Esq.
Senior Vice President, Chief Ethics and Compliance Officer, Ipsen; President, International Society of Healthcare Ethics and Compliance Professionals (ETHICS), Paris, France

Roeland Van Aelst
Regional Vice President – HCCO MD&D EMEA & Canada, Office Health Care Compliance and Privacy, Johnson & Johnson, Co-chair, Strategic Committee, International Society of Healthcare, Ethics and Compliance Professionals (ETHICS), Chairman, MedTech Compliance Network, Brussels, Belgium
FEATURED FACULTY

Richard Bistrong, MA
Chief Executive Officer, Front-Line Anti-Bribery LLC, Contributing Editor, FCPA Blog, Former Confidential Human Source (CHS) and Cooperating Witness, FBI and US DOJ, Former Cooperating Witness, City of London Police, HM Revenue & Customs (HMRC) and Crown Prosecution Service (CPS), UK, New York, NY

Julie Bonhomme
Legal Affairs & Compliance Deputy Director, European Federation of Pharmaceutical Industries and Associations (EFPIA), Brussels, Belgium

Holger Diener
Managing Director, Association of Voluntary Self-Regulation for the Pharmaceutical Industry ("FSA"), Member, Ethics and Compliance Committee and Vice Chair, Code Committee, EFPIA, Member, IFPMA Code Compliance Network, Berlin, Germany

Sue Egan
Director and Principal Consultant, Sue Egan Associates, Former Vice President Compliance, AstraZeneca, Great Missenden, Buckinghamshire, UK

Gary F. Giampetruzzi, Esq.
Partner, Paul Hastings, Former Vice President and Assistant General Counsel, Head of Government Investigations, Pfizer Inc., New York, NY, USA

Jose F. Zamarriego Izquierdo
Director Unidad de Supervision Deontologica, FARMAINDUSTRIA, Madrid, Spain

Vivian Robinson, Esq.
Queen's Counsel, Partner, McGuire Woods, Former General Counsel of the UK Serious Fraud Office, Former Head, QEB Hollis Whiteman Chambers, Recorder of the Crown Court and Treasurer of Inner Temple, London, UK

Christine M. Sainvil
Compliance Officer, EthicalMedtech, Manager, Conference Vetting System (CVS), European Medical Technology Industry Association (MedTech Europe), Brussels, Belgium

Heather Simmonds
Director, Prescription Medicines Code of Practice Authority, London, UK
2017-2018 GLOBAL PHARMA COMPLIANCE CONGRESSES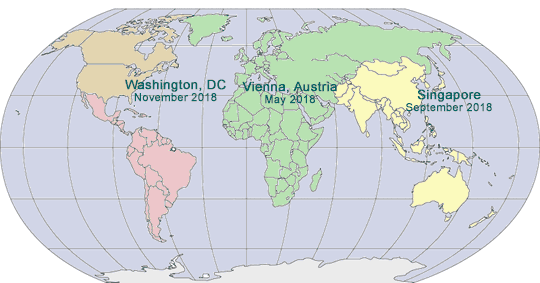 EIGHTEENTH ANNUAL PHARMACEUTICAL AND MEDICAL DEVICE COMPLIANCE CONGRESS
A Hybrid Conference and Internet Event
Sponsored by Pharmaceutical Compliance Forum (PCF)
November 6 – 8, 2017
Mandarin Oriental
Washington, DC
www.PharmaCongress.com
TWELFTH INTERNATIONAL PHARMACEUTICAL AND MEDICAL DEVICE COMPLIANCE CONGRESS
Sponsored by International Society of Healthcare Compliance Professionals (ETHICS)
Cosponsored by Pharmaceutical Compliance Forum (PCF)
Media Partners: Life Sciences Compliance Update
May 14 – 16, 2018
Hotel Savoyen
Vienna, Austria
www.InternationalPharmaCongress.com
EIGHTH ASIA PACIFIC PHARMACEUTICAL AND MEDICAL DEVICE COMPLIANCE CONGRESS
Sponsored by Asia Pacific Healthcare Industry Compliance Team
Cosponsored by International Society of Healthcare Ethics and Compliance Professionals (ETHICS) and Pharmaceutical Compliance Forum (PCF)
Media Partners: Life Sciences Compliance Update
September 2018
Singapore
www.AsianPharmaCongress.com



INDIAN PHARMACEUTICAL AND MEDICAL DEVICE COMPLIANCE CONGRESS
International Society of Health-
care Compliance Professionals (ETHICS)
Cosponsored by International Society of Healthcare Compliance Professionals (ETHICS) and Pharmaceutical Compliance Forum (PCF)
Fall 2018
Mumbai, India
Coming Soon